Assembling of the Saints
There have been many times when I've asked someone if they attend "church" or not. Many have been the times that I've been answered, "I don't feel like attending church is something that need to do."
WHAT??!!
I admit that, at one time, I felt the same. However, I'll be honest and say that I didn't attend because it was not something that I "felt" like I needed to do. I didn't attend because it was something I didn't "want" to do or that I didn't have time for because I wanted to do other things. That's the truth. Now days, I can't wait to go and gather with the church body.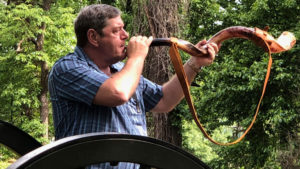 Assembly is part of what the trumpet sound is for. It calls people to assemble themselves together.
"Declare in Judah and proclaim in Jerusalem, and say, "Blow the trumpet in the land; Cry aloud and say, "Assemble  yourselves, and let us go Into the fortified cities."  Jeremiah 4:5 (NASB95)
The trumpet in this instance is calling for the inhabitants to rush into, to assemble, in the fortified cities for their protection. The correction of God was eminent!
"Blow the trumpet in Zion, consecrate a fast, Proclaim a solemn assembly, Gather the people, Sanctify the congregation, assemble the elders, Gather the children and nursing infants, Let the bridegroom come out of his room and the Bride out of her bridal chamber."  Joel 2:15-16 (NASB95)
This passage follows closely the verses describing teshuva and it is a call to assembly. What are they assembling for? To be delivered. Continue Joel 2:15-16 into verse 17. What do you see? I see an "ancient path" as I described earlier in these "40 Days of Awakening"! It is a course of action to repent, pray, and deliverance.
Question of the day. Who follows this path in today's church? To be honest, I've not seen or heard of any.
More to the point of assembling ourselves in modern times, consider Hebrews 10: 25.
"….not forsaking our own assembling together, as is the habit of some, but encouraging one another; and all the more as you see the day drawing near." 
Our assembling is to stimulate each other to love, good deeds, and to encourage one another. A day, THAT day, is coming! When is it coming? No one knows but it is coming. It is likely that it will come in the current "season" that we are about to enter into. I'm not saying THIS year mind you. I'm saying that it will possibly come this TIME of a year.
Just as the hasosera (silver trumpets) called to the leaders of tribes to assemble or the camps to move, the shofar calls for us to assemble and MOVE!
"I don't feel like attending church is something that need to do."
Really? I wonder if Jesus felt like hanging on that cross for me? I wonder if people are more concerned about how they feel than how our Lord and Savior feels?
Just something to think and pray about. Possibly it may be something to repent of.
I am The Old Watchman, Ezekiel. We're a little past halfway of these "40 Days of Awakening". Shalom!