Worship
Psalm 150 (TLV):  "1Halleluyah! Praise God in His Sanctuary!  Praise Him in His mighty expanse.  2Praise Him for His acts  of power.  Praise Him for His enormous greatness.  3Praise Him with the blast of the shofar.  Praise Him with harp and  lyre.  4Praise Him with tambourine and dance.  Praise Him with string instruments and flute.  5Praise Him with clash of  cymbals.  Praise Him with resounding cymbals.  6Let every thing that has breath praise Adonai. Halleluyah!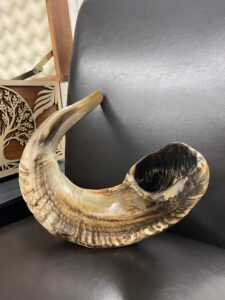 As some of you may know, Cheryl purchased a 27 inch Ram's Horn Shofar for me for our 25th wedding anniversary. She covertly purchased the shofar, and had it sent to our son's house where he would build a case for it. I've shown photos of the case that it now rests in. It is a beautiful piece of work. On the lid, around the outside edge, he laser engraved Psalm 150 from the Tree of Life Version. It is beautiful!
Use of the shofar can be, and is, a manner of worship and praise. If you see me in church or any other place sounding a  shofar, chances are I'm in my process of praise and worship. As we see here in Psalm 150, we praise God in His  Sanctuary. We praise God in His mighty expanse. We praise Him for His acts of great power. Let everything that has  breath praise God!
When I'm sounding the shofar I am declaring God's sovereignty over the earth, over the universe that He created. God is  sovereign over all! Why should we not praise Him? Let all that has breath praise Him.
In my lungs is God's life-giving breath. When His breath passes through the shofar, His voice goes forth! It is a long-standing Jewish belief that the sound of the shofar carries every syllable of God's Word into the atmosphere. God's Word  cannot return null and void. How beautiful is that!
I get a few stares and looks sometimes when I sound the trumpet in worship and praise. They don't understand it. I get it.  It's not something that's been taught in the church for the most part.  They aren't accustomed to it. But it is in God's Word.
Even David used the trumpets in praise and worship. The trumpets were used in bringing the ark of the covenant into Jerusalem.
2 Chronicles 5:13 (NASB95):  "13  in unison when the trumpeters and the singers were to make themselves heard with one voice to praise and to glorify the Lord, and when they lifted up their voice accompanied by trumpets and cymbals and instruments of music, and when they praised the Lord saying, "He indeed is good for His lovingkindness is everlasting," then the house, the house of the Lord, was filled with a cloud,

2 Chronicles 7:6 (NASB95):  "6 The priests stood at their posts, and the Levites also, with the instruments of music to the Lord, which King David had made for giving praise to the Lord—"for His lovingkindness is everlasting"—whenever he gave praise by their means, while the priests on the other side blew trumpets; and all Israel was standing.
I had a young praise and worship leader tell me once, "I'm not really into the trumpet thing. It seems mystical and  metaphysical."
Metaphysical? Are you kidding me?
Yet this same young worship leader was keen on other instruments for praise and worship and Often times touted the  Scriptures where David paid the musicians for worship. I get it. He wanted the musicians of the praise band to be  compensated. Instruments aren't cheap! I have some experience in that as well. I play guitar and have owned guitars  costing thousands of dollars. One was a custom built Zion guitar that Cheryl bought for me January of 2000 for $2000.00. I gave it to my son, the son who built the case for the shofar that Cheryl bought me for our Anniversary. By  the way, that horn was a little over two grand as well. I'm not looking for compensation in this world though. My reward is forthcoming.
The trumpet and the lyre are the only two instruments I've found that are noted as heavenly Instruments. If you find any  others let me know. I really would like to know.  
So, whenever you see or hear me sounding a shofar, I'm obeying God's Word. I am faithful to the calling and anointing  on my life. I will be sounding declaring God's sovereignty on this earth and throughout the universe. I'm getting my praise  and worship "groove" on, I suppose, in modern terms.
We're nearing the end of the Feast of Trumpets. Can you hear the trumpet sound? Can you?
I am The Old Watchman, Ezekiel. I pray that you are not one that Jeremiah said, "We will not listen."